Not long after King Von was snuffed out by Quando Rondo's shooter, Tekashi 6ix9ine went on a troll rampage, targeting Von's dogs from Chicago.
600Breezy was one of the rappers 6ix9ine mocked, and he responded by threatening Tekashi's life.
When Breezy was eventually taken in on probation violations, there was speculation that his threats to 6ix9ine did him in.
Breezy just got out of jail after doing about three months. On his way out, a posted paperwork that proves it was his threats against Tekashi that got him locked up.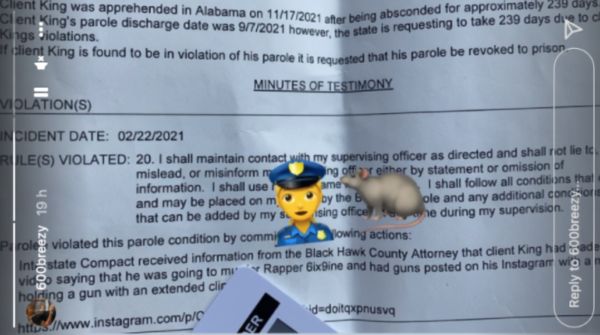 "Interstate Compact received information from Black Hawk County Attorney that client King had made a video saying he was going to murder Rapper 6ix9ine and had guns posted on his Instagram," read the incident report.
Breezy added a rat and police emoji to the paperwork.
Does it count as ratting when the other party puts the threat on social media for anybody and any probation officer to see?
Discuss