R Kelly will serve 30 years for racketeering and sex trafficking.
Boosie Badazz is not happy about the sentence.
The Baton Rouge rapper and personality -- who's defended Kelly before -- used Twitter to claim that Kelly was being unfairly singled out for his behavior and blamed the victim's parents for what happened to their daughters.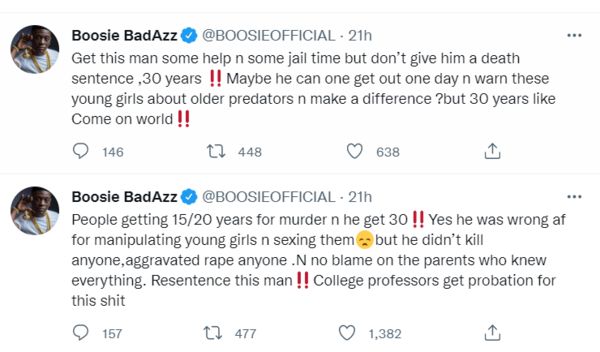 "People getting 15/20 years for murder n he get 30Yes he was wrong af for manipulating young girls n sexing thembut he didn't kill anyone,aggravated rape anyone .N no blame on the parents who knew everything. Resentence this manCollege professors get probation for this sh*t," Boosie typed. Get this man some help n some jail time but don't give him a death sentence ,30 years Maybe he can one get out one day n warn these young girls about older predators n make a difference ?but 30 years like Come on world."
Agree or nah?

Discuss