Cardi B has always responded quickly to a diss.
On Sunday, leaked footage surfaced of Kanye West saying not so kind things about the Bronx rapper, who's already reacted.
"Cardi B is a plant by the Illuminati," says Ye in the clip. " She don't write her raps. She's just there to sound as ignorant as possible and make songs like f*ck em and you get some money. She literally replaced Nicki Minaj. Purposefully. They put her there. She has no idea what to do. Shes' doesn't know what the f*ck is going on. She thinks it's just a blessing from the universe."
The "Bongos" rapper responded by posting, then deleting Kanye's 2022 interview with Hollywood Unlocked's Jason Lee where he praised her. She captioned the clip with a heart emoji as well.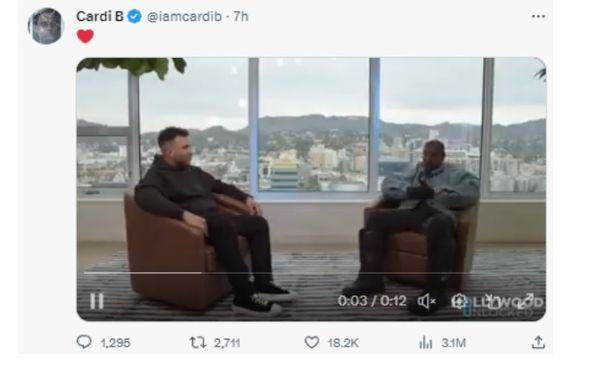 "I was finishing that verse for your girl, you know what I mean? I've always believed in her since she was on the show," Ye stated.
But some responded to Cardi's post by saying his true feelings are on that leaked footage, not his interview with Lee.
What do you think?
Discuss