On Black Friday, there were three big rap releases. Fabolous's Summertime Shootout 3, The Game's Born 2 Rap, and Griselda's WWCD.
It doesn't look like any of them are going to post good numbers. Hits Daily Double has Summertime Shootout 3 doing 30-35k SPS and 5-7k pure sales, good for tenth place on the album charts. Fabolous's last studio album, 2014's The Young OG Project, did 71K first week. (The other Summertime Shootouts were mixtapes.)
It's looking a lot worse for The Game. Hits Daily Double doesn't have Born 2 Rap in its top 20, suggesting it will do less than 22K.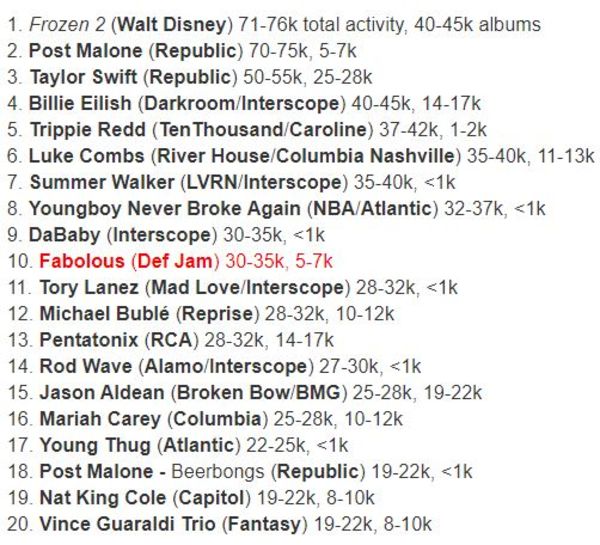 BuzzAngle's preliminary rankings have Born 2 Rap at 44th on the album chart, which would put it in the 10K range. Game's last album, 2016's 1992, had a 32K first week. (As of Wednesday, Born 2 Rap has dropped out of BuzzAngle's top 50.)
WWCD, Griselda's Shady Records debut, is nowhere to be found HDD's top 20 or BuzzAngle's top 50. Perhaps that's why Westside Gunn is winding down his rap career.
It could be there are reporting issues for Born 2 Rap and WWCD, as there was for Dave East's album last month. But, like with East, even if there are, it's highly doubtful the albums will be doing the kind of numbers Game and Griselda had hoped for.
Discuss