Rapper DDG recently spoke about the racist remarks that his girlfiend Halle Bailey received after it was announced that she'd be playing Ariel in Disney's remake of The Little Mermaid.
But he was criticized for his comments, which he later responded to.
"I didn't know people was this racist," he told Bootleg Kev. "I didn't know this was a thing. I thought this sh*t was gone already. I thought Martin Luther King canceled that sh*t out. This sh*t is crazy."

"DDG please. I guess he skipped history 🤦🏽‍♀️," one person wrote on Instagram.

"What rock have you been under ?" someone else asked.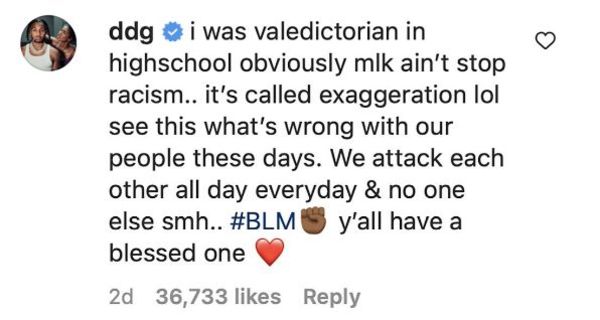 "I was valedictorian in high school obviously mlk ain't stop racism," wrote DDG in the comments after The Shade Room posted his interview. "It's called exaggeration lol see this what's wrong with our people these days. We attack each other all day everyday & no one else smh.. #BLM✊🏾 y'all have a blessed one."
Do you think people were right to come after him like they did?
Discuss