Are Young Thug's antics and constant trolling starting to catch up with him?
Barter 6 has flopped, and now it appears that the backlash against Thugger is making other emcees reluctant to go forward with their support for him.
Recently, Dej Loaf posted an Instagram screen shot of her listening to 'Constantly Hating,' which is the Birdman-featured opening track of Barter 6. "My boy @thuggerthugger1 Barter 6 album is out now! This my shit," was her caption.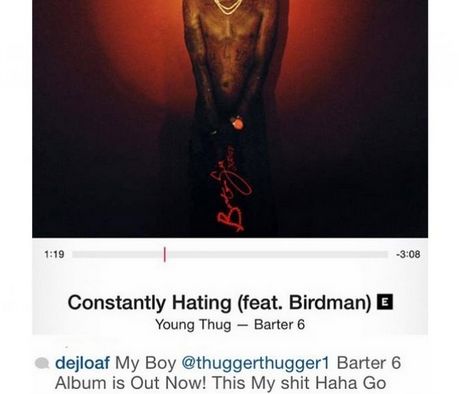 The post was immediately criticized by her followers, who had had enough of Thug's attention grabbing silliness and Wayne-baiting.
Then the post disappeared.
They say all publicity is good publicity, but Thugger's really testing that. We'll have a better answer as to whether his troll tactics are moving him forward or holding him back when his debut "album" Hy!£UN35 drops in late August.
Discuss