J. Cole isn't having a great week.
First, he was accused of stealing a beat and now, his name is being associated with underage girls, and it's not for selling concert tickets.
Cole's artist and graphic designer, Kamau, is not being shy today on social media regarding working with Cole, and the requests he had.
@sixmau a young black genius. Follow him and buy his art. Heavy shit https://t.co/aKGhYKeG3P

— J. Cole (@JColeNC) April 26, 2018
Kamau says Cole still owes him money and that he is a bitch.
and j cole still a bitch and he owe me money

— kamau (@theykilledsix) March 10, 2019
After that tweet, things couldn't get any worse, right? Well, Kamau followed his money tweet up with something a little more serious.
Kamau says that J. Cole asked him to draw little underage girls naked.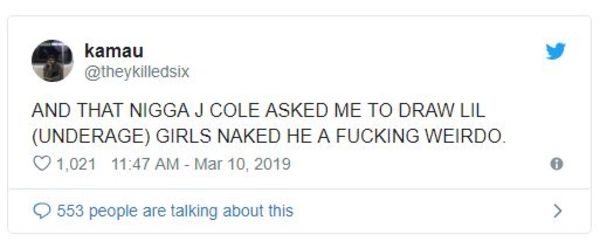 AND THAT NIGGA J COLE ASKED ME TO DRAW LIL (UNDERAGE) GIRLS NAKED HE A FUCKING WEIRDO.

— kamau (@theykilledsix) March 10, 2019
We're not really sure why he would request this, but Kamau is actively responding to everyone tweeting and defending what he is saying.
Do you believe Kamau or is he just clout chasing?
Discuss