There are some people that just shouldn't weigh in on Will Smith's Academy Awards slap of Chris Rock.
Zoe Kravitz, who has a history of predatory remarks about the Smith family, is learning that the hard way.
So is Fabolous.
Fab is getting dragged all over Twitter after saying this about the slap heard 'round the world.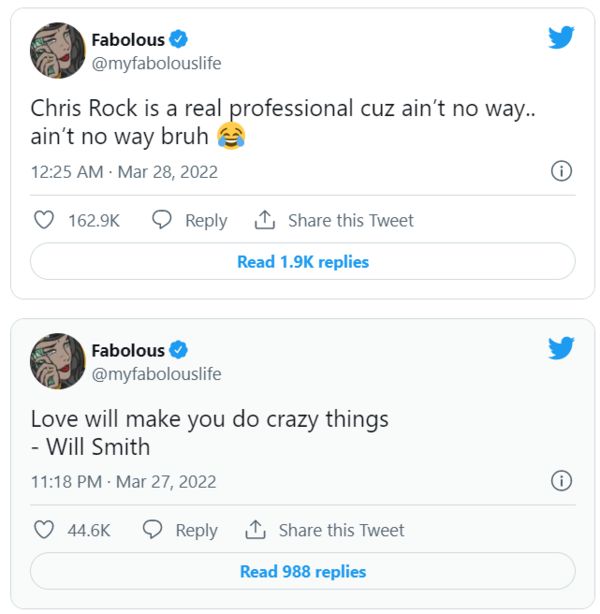 "Chris Rock is a real professional cuz ain't no way .. ain't no way bruh," Fab typed. "Love will make you do crazy things -- Will Smith."
The problem with Fab's remarks, according to Twitter, is his own history of domestic violence.
Coming from a nigga who knocked his bitch tooth out and threatened to kill her brother and daddy https://t.co/fOTmSdrv6A

— IG @ᵗʰᵉⁿⁱᵗᵃʷᵒᵒˢʰᵒʷ (@issawooo) March 28, 2022
We Know, Ike Turner. pic.twitter.com/05I9fPjG8A

— Tami Roman's Virginia Slim (@monsieurclasiqu) March 28, 2022
Wow @myfabolouslife he almost hit Chris as hard as you hit your girlfriend 7 times remember that lol omg🤣💯

— Jackie Daytona 🦇 (@LazyBoiSam) March 28, 2022
WE KNOW, we still trying to help Emily find her teeth! #ToothBeTold 🙄

— nicole martinez (@nickym107) March 28, 2022
In 2018, Fab was arrested for beating the crap out of his girlfriend Emily B.
"According to an affidavit of probable cause, while on a flight back from Los Angeles, the victim told police that Jackson [Fabolous] said via text he wanted to hit her in the head with a baseball bat and that he would kill her but he "did not want to go out like that. The victim told police she was scared because of the March 7 incident. The victim was later punched by Jackson seven times in the face "causing severe damage to her two front teeth." She ended up losing her two front teeth, according to court documents."
Loso was indicted by a grand jury in New Jersey on four felony charges of domestic assault. He took a plea deal that spared him jail time.
Discuss