Tekashi 6ix9ine accused Ariana Grande of using six credit cards to buy 30,000 downloads of her Justin Bieber feature single "Stuck With U," propelling it to number one on the Billboard Hot 100 over 6ix9ine's comeback smash "GOOBA."
Grande, Bieber, and Billboard have all denied that what happened.
Bieber and Grande's manager Scooter Braun not only denied 6ix9ine's charge, but suggested that Tekashi is the cheater.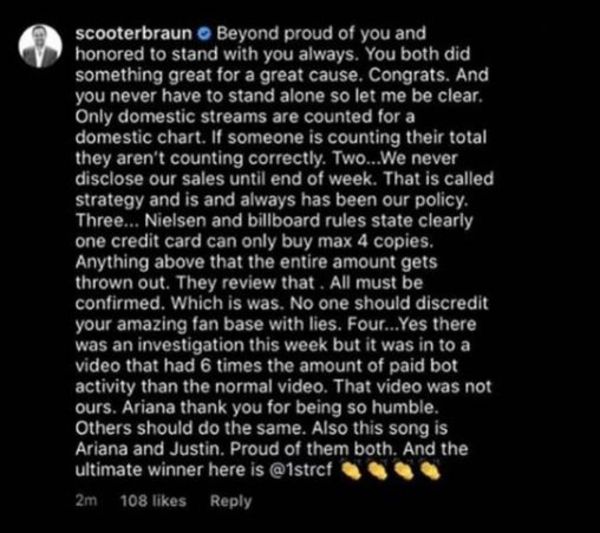 "We never disclose our sales until end of week. That is called strategy and is and always has been our policy. Three… Nielsen and billboard rules state clearly one credit card can only buy max 4 copies. Anything above that the entire amount gets thrown out. They review that. All must be confirmed. Which is was. No one should discredit your amazing fan base with lies. Four, Yes there was an investigation this week but it was into a video that had 6 times the amount of paid bot activity than the normal video. That video was not ours," Braun typed.
Braun might be onto something about bots spinning "GOOBA".
What do you think? Is 6ix9ine a snitch and cheat?
Discuss