Latto and Nicki Minaj are in the throes of a major social media spat, which began on Thursday, October 13.
It all has to do with Nicki being upset that her song "Super Freaky Girl" was removed from the rap category and put in the pop slot after submitting it to the Grammys.
Nicki — who recently sent a shot at Cardi B — responded on social media by saying that Latto's cut "Big Energy" should also be considered pop. She then blasted the 23-year-old, who she called a "Karen," for not coming to her defense.
Latto responded by calling Nicki old and a bully, tweeting that she's older than her mother. Nicki shot back by saying that Latto looks 40 and uses ghostwriters.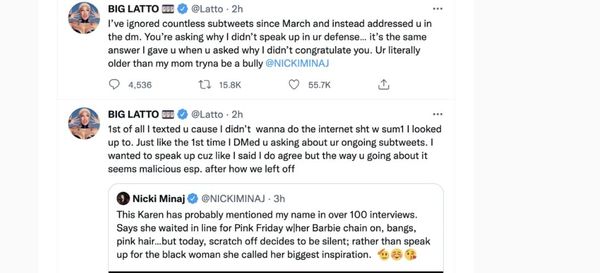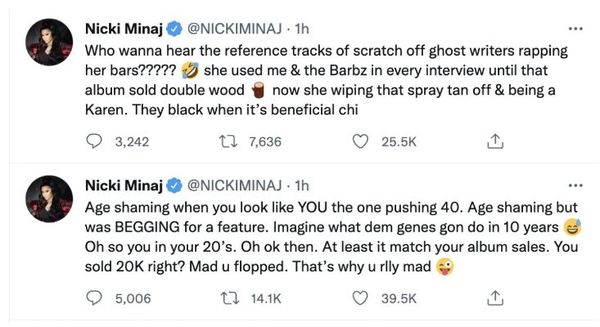 Then after more tweets and disses were exchanged, Latto shared an old phone call between her and Nicki that was highly contentious.
Lemme specify I'm sorry. Im delusional for saying "we're" (newer female rappers) are flourishing & u said no one cares about my little song LYRICS my bad. FYI I only recorded cause I KNOW who tf I'm playing wit #40yroldbully https://t.co/ocBAA3uVeF pic.twitter.com/RHqEu8XFYD

— BIG LATTO 🎰 (@Latto) October 14, 2022
"I've done nothing to you," Latto can be heard saying on the call.

"I'm acting crazy because you said something that is clearly delusional?" Nicki responded.

"It's delusional to say that other girls are flourishing?" Latto shot back. "I never said you're no longer running sh*t. I said that there are other females flourishing. What is the problem with that?"
Peep the rest of the call above, as well as some of the tweets the two ladies exchanged.
Discuss