Young Thug was denied bond last week in Fulton County's RICO and gang case against him.
This means he will likely remain locked up until his trial next year.
Then he could get decades in jail for, among other things, renting a car that was used in a targetted murder.
Thug's ex Jerrika Karlae spoke to Thug last week and said he the 30-year old is in good spirits and has been leaning on religion in these trying times.
Lil Baby has also spoken to Thug. He raised Jerrika's "good spirits" to "great spirits."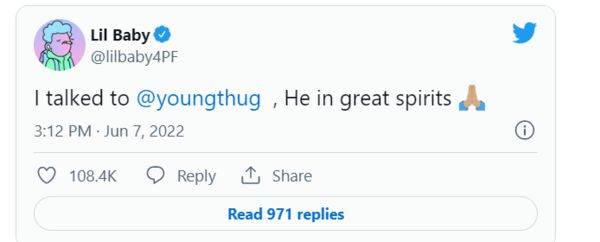 "I talked to @youngthug, He in great spirits," Baby typed.
Last month, there was a report Baby's label 4PF is being targeted by the Georgia Bureau of Investigations, which has labeled 4PF Crips.
Discuss