The last time we heard from Pete Rock, he denied producing Canibus' C album and called it "super trash." That's despite Bis saying that Pete produced the whole thing.
The Mount Vernon beat maker is now coming for Diddy and accused him of stealing his Chocolate Boy Wunda nickname — a moniker that Diddy just started using.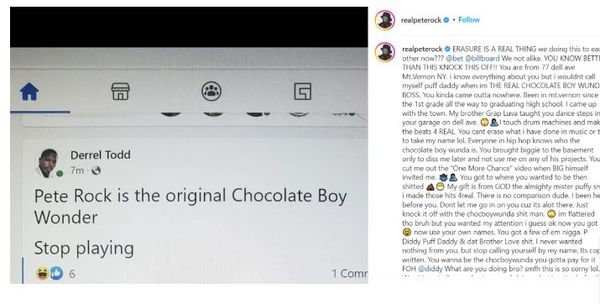 "Everyone in hip hop knows who the chocolate boy wunda is," wrote Pete. "You brought Biggie to the basement only to diss me later and not use me on any of his projects. You cut me out the 'One More Chance' video when BIG himself invited me ... My gift is from GOD the almighty mister Puffy smh i made those hits 4real. There is no comparison dude. I been here before you. Dont let me go in on you cuz its alot there."

"Just knock it off with the chocboywunda sh*t man," he added. "Im flattered tho bruh but you wanted my attention i guess ok now you got it. now use your own names. You got a few of em n*gga. P Diddy Puff Daddy & dat Brother Love sh*t. I never wanted nothing from you, but stop calling yourself by my name. Its copy written. You wanna be the chocboywunda you gotta pay for it FOH @diddy What are you doing bro? smfh this is so corny lol."
Pete also said that Diddy is trying to erase him from the culture.
Does he have a legitimate gripe?
Discuss