Before Pop Smoke was shot and killed in a Los Angeles home invasion early this morning, the Brooklyn rapper and some of his friends revealed the address of the house they were staying at and flexed stacks of cash on social media.
Mike Dee (Mike Durodola)'s Instagram page was one of the platforms that gave out this information. Dee, who seemed to be staying with Smoke in the LA rental home, deleted those posts and some captions shortly after Pop's death became public knowledge, leading some to accuse him of setting up his friend.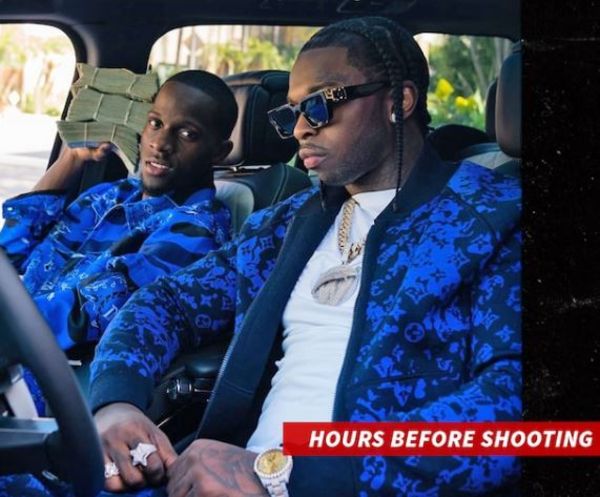 The only thing that does seem weird is pop smoke friend Mike dee posting at 6am who in la but deleted it 🤔 he was with pop smoke but nothing happened to him at all but yet he had the address posted on his page too 🤔🤔😓

— Dameka Rochelle (@DamekaRochelle) February 19, 2020
This has to be a set up. 1. His boy Mike Dee leaks the adress on an Instagram pic with tons of cash posted. 2.His friend Mike Dee edits the post an hour ago. 3. There are several eye witnesses but Pop Smoke the only one shot? #setup https://t.co/o3MA9dMIkY

— Mike (@mikeynelms) February 19, 2020
Mike pushed back hard on those accusations.
"CANT NOTHING EXPRESS THE PAIN IM FEELING ....I JUST LOST MY FUCKING BROTHER, MY HEART MY DAWGZ💙YOU GUYS HAVE NO TYPE OF SENSE OR SYMPATHY ! YALL DONT KNO WHATS GOING ON YALL COME ON HERE PLAYING INVESTIGATOR AND BASHING ME ON THE INTERNET, I WOULD NEVER IN MY LIFE SET MY BROTHER UP, WE ATE TOGETHER , BROKE BREAD TOGETHER THIS REALLY MY MOTHER CHILD I DONT GOTTA EXPLAIN NOTHING TO NOBODY THAT DONT KNO ME BUT FOR THE ONES WHO KNOW ME KNOW WHEN YOU SAW ME YOU SAW POP 💯WE LIVE IN SUCH A F*CKED UP SOCIETY YALL GOTTA WAKE UP💡 JUST KNO I GOT YOU FOREVER BROTHER THE TRUTH WILL COME TO LIGHT UNTIL THEN SLEEP IN PEACE," Mike typed.
It Mike's defense, if he was trying to set up his buddy he surely would have stayed silent on social, not the opposite.
Discuss