Here's a juicy bit of gossip from the Instagram page Gossip Of The City.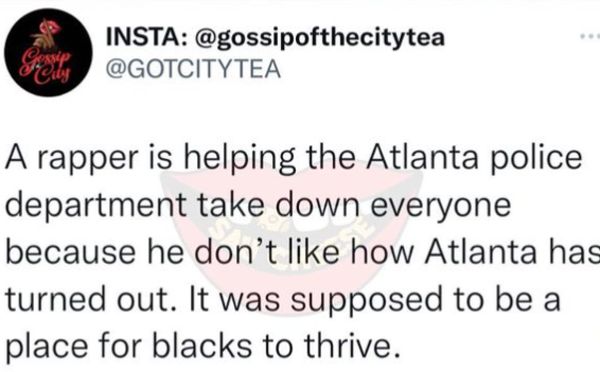 "A rapper is helping the Atlanta police department take down everyone because he don't like how Atlanta has turned out. It was supposed to be a place for blacks to thrive," typed the page.
For those keeping score, Young Thug, Gunna and YFC Lucci are currently locked up without bail on charges ranging from RICO to murder.
Fulton County DA Fani Willis has said there are more "high profile" RICO arrests coming this summer with speculation that Lil Baby and Li Durk will be locked up next.
As for the rapper helping out the police ...
We're pretty sure we are all thinking the same name.
But we're not going to type it given the allegation of snitchery is so flimsy.
Discuss