Soulja Boy was beefing with Young Dolph when he died.
The day after the Memphis rapper was shot to death last November, SB dropped the track "Stretch Some", which some perceived as a Dolph diss.
Trouble was one of those people and he called Soulja out for clout chasing.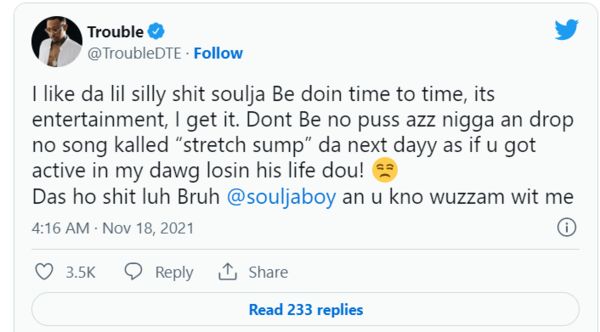 "Dont Be no puss azz n*gga an drop no song kalled "stretch sump" da next dayy as if u got active in my dawg losin his life dou," Trouble put on Twitter.
As SB always does, he responded to Trouble's attack with vitriol.
"Bitch ass boy you could be next @TroubleDTE," SB typed in response.
Trouble was shot and killed early Sunday morning in a dispute involving a woman.
Soulja had nothing to do with Trouble's death, but he is on the record predicting it.
Discuss