Tekashi 6ix9ine has been on a comment section rampage against the dead.
The same day he trolled Pooh Shiesty's dead brother, he reminded everyone how Nipsey Hussle died.
He touched that third rail under a DJ Akademik's post about an incident on 6ix9ine's rented Yacht.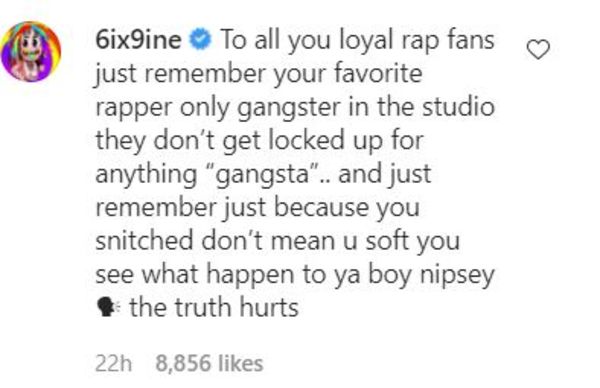 "To all you loyal rap fans just remember your favorite rapper only gangster in the studio," 6ix9ine typed. "they don't get locked up for anything 'gangsta'.. and just remember just because you snitched don't mean u soft you see what happen to ya boy nipsey the truth hurts."
It's not the first time Nip's name has been in 6ix9ine's mouth.
Discuss