In a recent Livestream, G-Unit affiliate Trav aired 50 Cent out.
The gist of his rant was that Fif used him for dirty work, starting when Trav was just 12 years old. Yet, Trav argues, 50 never properly compensated him.
Trav also spoke on Tony Yayo's name, arguing that 50 used Yayo too and claiming Yayo has been reduced to selling weed in Queens because 50 doesn't really have his back. Trav also broke down the notorious incident in which Fif was filmed throwing Yayo into a bush, claiming 50 humiliated his G-Unit soldier.
Yayo seemed to respond to and to dismiss all of Trav's gripes in this IG comment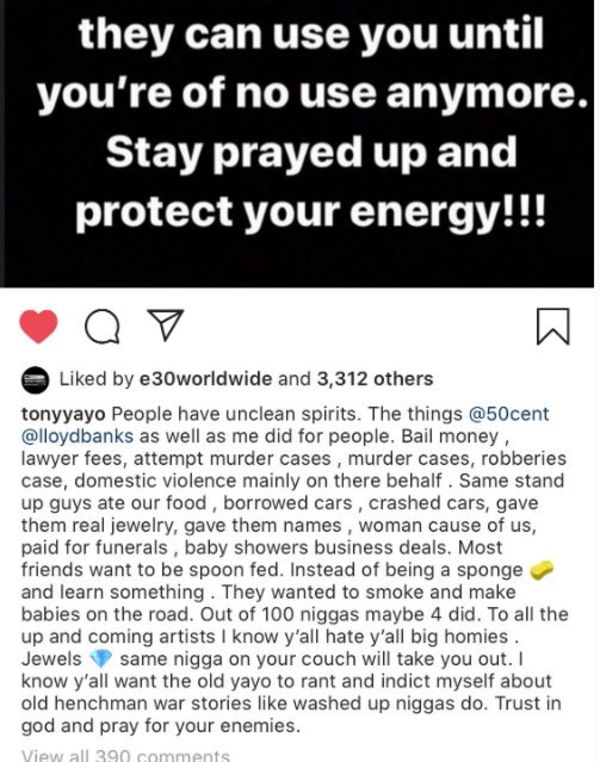 "People have unclean spirits," Yayo typed. "The things @50cent @lloydbanks as well as me did for people. Bail money, lawyer fees, attempt murder cases, murder cases, robberies case, domestic violence mainly on there behalf. Same stan up guys ate our food, borrowed cars, crashed cars, gave them real jewelry, gave them names, woman cause of us, paid for funerals, baby showers business deals. Most friends want to be spoof fed. Instead of being a sponge and learn something. They wanted to smoke and make babies on the road. Out of 100 niggas maybe 4 did. To all the up and coming artists I know y'all hate y'all big homies. Jewels same nigga on your couch will take out. I know y'all want the old Yayo to rant and indict myself about old henchman war stories like washed up n*ggas do. Trust in god and pray for your enemies."
Here's Trav's original rant:
Discuss