Trouble believes a Drake feature is so valuable a rapper should offer his wife's puss up to obtain it.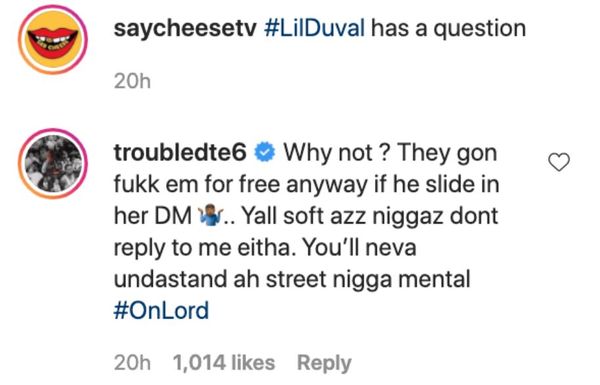 "Why not??" he wrote in response to the question Lil Duval posed. "They gon f*kk em for free anyway if he slide into her DM. Yall soft azz n*ggaz don't reply to me eitha. You'll neva undastand ah street n*gga mental #OnLord."
A lot of folks hit pause on Trouble's words, declaring his advice bad for both a marriage and a career.
The Atlanta spitter clapped right back at that.
"I'mma address a few things real quick," Trouble said. "Y'all honestly got it f*cked up. Y'all been living through social media, living through these social sites. Y'all ain't in the real world because if you was in the real world, any snack, any female, lady, whatever you want to call it, I don't never dealt with that, any n*gga in the street will tell you you can't even look at my female brazy. You know you gone get f*cked up. I ain't Superman or none of that sh*t but you gotta have nuts to still keep honking or looking at my snack without it being a problem.

When I said that shit, I don't even got no wife," he contined. "I'm talking about a little snack you just be fucking around on or something. You don't think I'm finna let her bussdown on Drizzy for a verse? When I'mma make millions off that verse? And if he slide in her DMs anyways, she gone go? Hell yeah, we finna get them M&Ms."
Bottom line, Drake can bang Trouble's girl any time he wants.
Discuss