When we last heard from oversharing basketball wife Ayesha Curry she had dyed her blonde and no longer looked like Ayesha Curry.
That led to jokes that Steph Curry was cheating on Ayesha Curry with ... Ayesha Curry.
This is why you have to stop looking up to these celebrities and their "perfect" marriages.

Step Curry is really in these streets cheating on Ayesha Curry with Ayesha Curry.

Men ain't shit. pic.twitter.com/KZiZ5nwklD

— Dana (Store Name) #AmplyBlackVoices @ #CES (@sagesurge) October 19, 2020
Now there are rumors that that would be OK because Steph and Ayesha have an open marriage.
Today, Ayesha clapped back on the implication that the Currys were like the Smiths.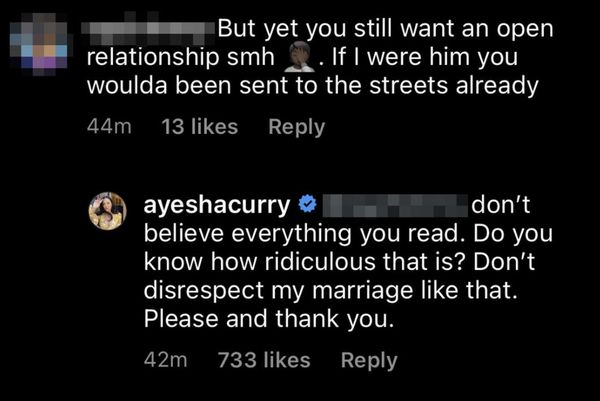 "Don't believe everything you read," Curry typed at a troll who said she was pursuing an open relationship.. "Do you know how ridiculous that is? Don't disrespect my marriage like that. Please and thank you."
Was that necessary?
Discuss