Earlier this week, Puff Daddy went off on the current state of R&B during a chat with Timbaland.
Screaming at Tim during an Instagram Live chat, Diddy declared R&B dead.
"I'm being real politcal R&B is muthaf*cking dead as of right now," the Diddler yelled. "The R&B I made my babies to? R&B gotta be judged to a certain thing. It's a feeling though, doggy. No, no, no. It's a feeling. You gotta be able to sing for R&B and then you gotta tell the truth. R&B is not a hustle. This sh*t is about feeling your vulnerability. You gotta muthaf*ckin make a n-gga dick hard or a woman's vagina wet. You gotta make a child You gotta cry. You gotta be able to get your girl back. I don't wanna hear all this bullshit. It's a lack of vulnerable. It's our fault for accepting anything less for anybody getting on a mic. If you was at church, and you got on the mic, and your a$$ couldn't sing, and you need an autotune, they'd be telling you ... I feel like there was a death of R&B singing, and I'm a part of bringing that sh*t back. And everybody out there that weren't some emotions, I ain't feelin' no emotions."
He followed that up with this Tweet.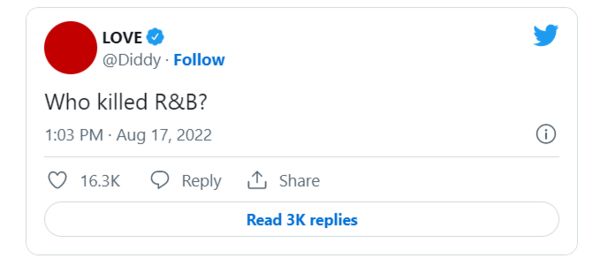 R&B singer Chris Brown responded to that aggressively.
"When's the last time you heard a slow song on the radio??? N*ggas are saying R&B is dead... Respectfully, shut up!" he continued. "People nowadays want fast food instead of a real meal... DON'T BLAME THE REAL SINGERS OUT HERE [BECAUSE] WHAT CHANNELS DO PEOPLE HAVE TO SEE MUSIC VIDEOS? "BET damn sure don't, neither does MTV. And then the industry be forcing sh*t on people when the real music lovers know that sh*t is garbage. "R&B ain't dead... Y'ALL N*GGAS JUST UGLY"
Is Chris Brown or Diddy correct in their assessments of the current state of R&B?
Discuss