Last week, Bobby Shmurda posted a video of him in bed with two other people.
A Facebook video is going viral of rapper Bobby Shmurda in bed with 2 men pic.twitter.com/2T8EXb9wzr

— 44vibe News (@44vibeTV) September 16, 2022
Since the two other people were almost entirely under the covers, you couldn't tell if they were men or women.
A homosexual man who goes by Xavier Raza claimed that he was one of the people in the bed.
Bobby denied that he gets down like that and called the assault on his sexuality a plot by his estranged label to do him in.
Now Raza is clarifying, saying he made it all up and didn't think his false claim would go viral.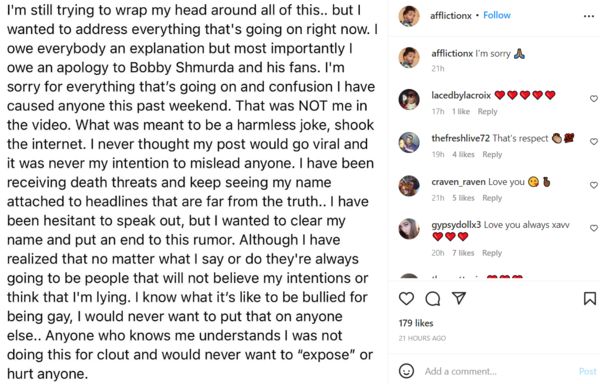 "I'm still trying to wrap my hear around all of this .. but I wanted to address everything that's going on right now. I owe everybody an explanation but most importantly I owe an apology to Bobby Shmurda nd his fans. I'm sorry for everything that's going on and confusion I have caused anyone this past weekend. That was NOT me in the video. What was meant to be a harmless joke, shook the internet. I never thought my post would go viral nd it was never my intention to mislead anyone," he typed.
Discuss