Kanye West's Twitter rants haven't stopped, and he keeps going at his wife Kim Kardashian and mother-in-law Kris Jenner.
Ye's family believes that he's in the middle of a bipolar episode, which led him to saying that Harriet Tubman never freed slaves and that he didn't want Kim to have their first child North West.
Kanye also said that Kim was trying to have him sent to a mental institution against his will, something he accused her of again in his latest Twitter rant. He then implied that his wife slept with Meek Mill, while throwing a shot at Kris Jenner on top of that.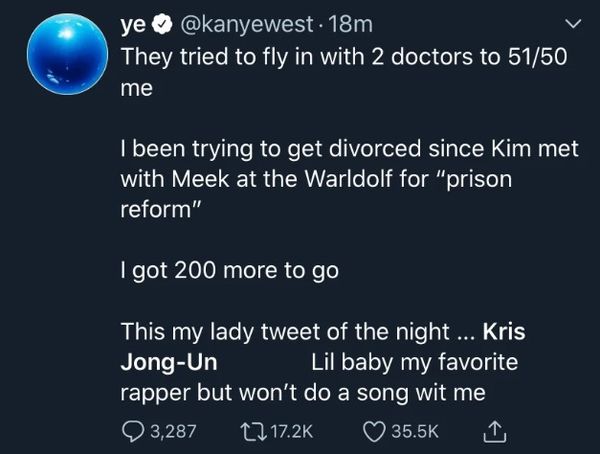 "They tried to fly in with 2 doctors to to 51/50 me," he tweeted. "I been trying to get divorced since Kim met with Meek at the Warldolf for 'prison reform.' I got 200 more to go. This my lady tweet of the the night … Kris Jong-Un. Lil Baby my favorite rapper but won't do a song wit me."
Ye was referring to Kim and Meek being at a Criminal Justice Reform Summit in Los Angeles in 2018.
Do you think this is the end for Kim and Kanye?
Discuss