NewAge JerkBoy figured out a way to get some attention for his new track 'Married to the Game'.
In its visuals, JerkBoy flashes firearms while wearing a wedding dress. His crew and his girls -- who are all wearing normal attire -- flex guns and money. Check it out:
You could see the video as a parody of the state of rap; the gender-bending ways of Young Thug mixed with firearm flexing that the young drillers and trappers are so fond of.
But that's not the way NBA YoungBoy sees it. Here's what he wrote in the comment section when JerkBoy posted a clip of the video on Instagram.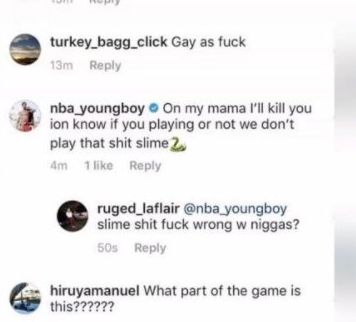 YoungBoy probably needs to watch his language.
He caught an amazing legal break earlier this year when he got two counts of attempted first-degree murder stemming from a drive-by shooting knocked down to one count of aggravated assault, a suspended sentence of ten years, three years of probation, 250 hours of community service and a $5000 dollar fine.
But he is on that probation.
That aside, what do you think of JerkBoy's video? Is it a capital offense?
[Related: NBA YoungBoy threatens to beat fan who went for his chain.]
Update: JerkBoy has responded to YoungBoy's threatening words.
Discuss