Pusha T and Lil Wayne have a long history of beef.
When Push saw that Lil Wayne had more or less endorsed Donald Trump with the election just around the corner, he hit him with a very vicious Tweet, which touches on some of the issues they've had over the years.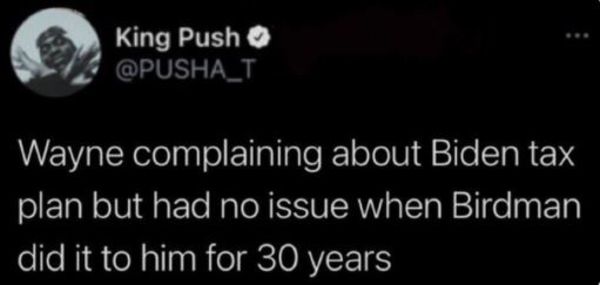 "Wayne complaining about Biden tax plan but had no issue when Birdman did it to him for 30 years," Push typed.
That not entirely fair. Wayne did sue Birdman and ended up with ten million dollars and ownership of Young Money.
Perhaps that's why Push deleted the Tweet. Or perhaps it was because Wayne didn't mention taxes, that was 50 Cent, who was trolling.
Or perhaps he didn't want to offend his MAGA loving boss Kanye West.
Just had a great meeting with @realdonaldtrump @potus besides what he's done so far with criminal reform, the platinum plan is going to give the community real ownership. He listened to what we had to say today and assured he will and can get it done. 🤙🏾 pic.twitter.com/Q9c5k1yMWf

— Lil Wayne WEEZY F (@LilTunechi) October 29, 2020
Discuss