Quando Rondo was not happy that female rapper Shine Willis took 10K from him.
"I ain't gonna lie a n*gga don't want no smoke with you lil shawty you got that shit," Rondo said about Shine. "F*uck it. Bitch that wasn't my money that was yours. You snatched that shit out my girl hand and ran when I been bout to hit with your brother bitch. Stupid ass bitch, quit acting like you took something from me. A n*gga was trying to sign your stupid ass, ho ... Bitch only reason I was calling you was to try and slime your ass and make you think we was cool. Scary ass ho."
According to Willis, she took the money because Rondo disrespected her during a dice game.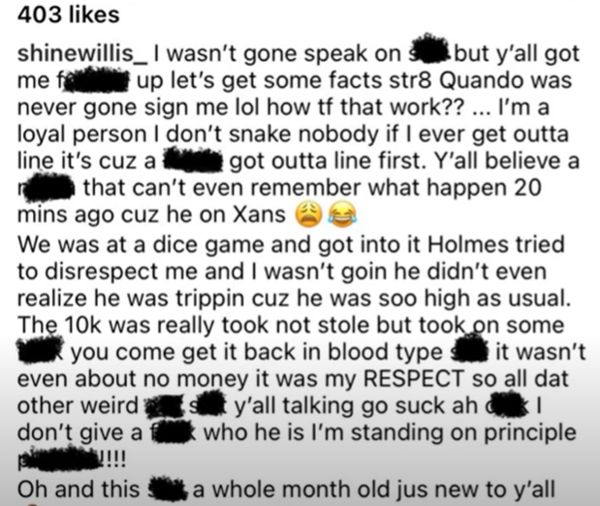 "I wasn't gonna speak on this but y'all got me f*cked up let's get some facts str8 Quando was never one sign me lol how tf that work?? .. I'm a loyal person I don't snake nobody if I ever get outta line it's cuz a n*gga got outa line first. Y'all believe a n*gga that can't remember what happen 20 minutes ago cuz he on Xans," Shine typed, before detailing why she took the money.
Given NBA YoungBoy allegedly just gave Quando a million dollars, Rondo can probably survive this embarrassing theft.
Discuss