Pop Smoke's second posthumous album Faith is polarizing, to say the least.
His friend and producer 808Melo thought it was so bad he disowned it even though he isn't on it and Twitter was not feeling the feature-heavy format.
Now Rowdy Rebel is weighing in. The GS9er is furious that his guy Eli Fross was taken off the Neptunes produced Faith track "Top Shotta", which ended up featuring BEAM, Travi, and Pusha T.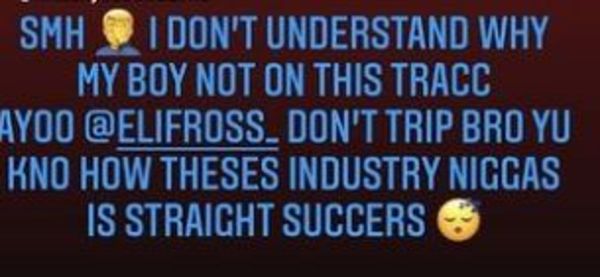 "SMH I DONT UNDERSTAND WHY MY BOY NOT ON THIS TRACC," Rowdy wrote. "AYOO @ELIFROSS_ DONT TRIP BRO YU KNO HOW THESES INDUSTRY N***AS IS STRAIGHT SUCCERS."
Eli Fross was arrested for attempted murder earlier this week. But the album was already set by then and, anyway, we doubt such a charge would have gotten Fross taken off.
Discuss