The second half of Super Bowl LV was pretty boring, as Tampa Bay easily rolled the favored Chiefs.
Things did pick up a bit when a streaker in one-piece, pink thong women's bathing suit traversed the field in the fourth quarter.
The invader Yuri Andrade, who was arrested for trespassing and bonded out for 500 bucks, was thought to have done the stunt to promote his friend, social media personality Vitaly Zdorovetskiy's website, Vitaly Uncensored.
While Zdorovetskiy did pay for Andrade's ticket to the game, Andrade had another motive for doing what he did.
Someone who ran into Andrade at the Super Bowl reports that he made a big bet on himself.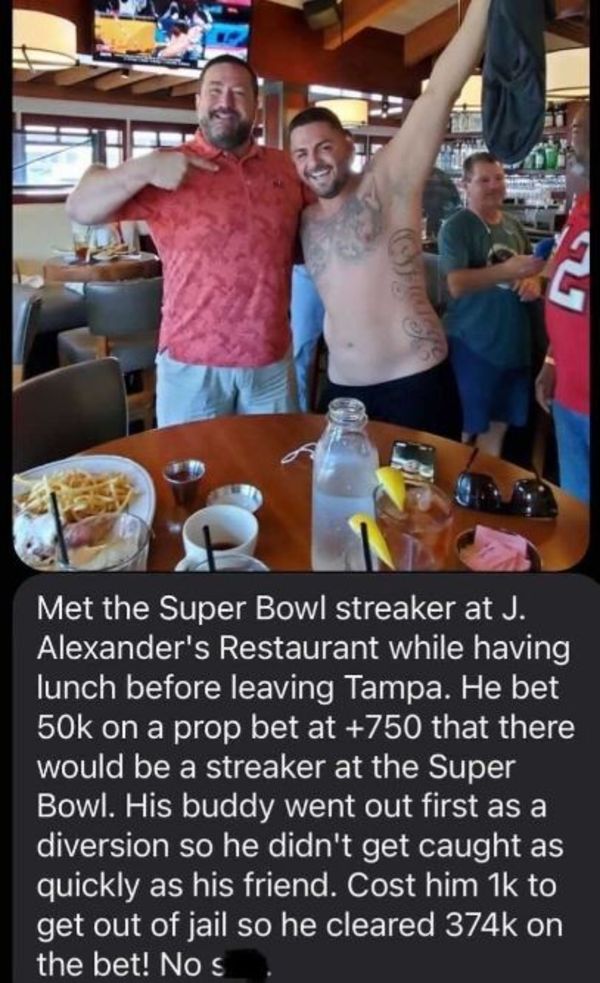 "He bet $50K a prop bet at +750 that there would be a streaker at the Super Bowl. His buddy went out first as a diversion so he didn't get caught as quickly as his friend. Cost him $1,000 to get out of jail so he cleared $374,000 on the bet," typed the snitch.
If this is true, Andrade better hopes he got paid out before this message got to the book.
Discuss