During the East Coast West Coast rap wars that ended in much death and destruction, Suge Knight took a trip to NYC and got on the radio to recruit for Death Row.
According to Spider Loc, who was with Death Row at the time, Suge got on Hot 97 and said something to the effect of "At the new Row, we looking street n*ggas, cool thug n*ggas, not no Fabolous-type n*ggas."
That obviously didn't sit well with Fab.
According to Loc, when Suge got back to LA, Loso ran into him outside of a Def Jam party. The door had been told to keep Suge out of the party, and there was a police presence about. Fab pulled up to Suge in a little two-seat Mercedes and said 'Man, what's up with that shit you was saying on the radio?'"
Loc was surprised at how Suge reacted. Instead of getting angry, he backed down a bit.
"Based on what Suge said and who I thought Suge was, I was surprised to hear him say, 'Oh, you know it ain't like that. We ain't talking about n*ggas like you,'" Loc said, adding that the two then exchanged numbers. "I was kinda impressed in what my perception of what a Fabolous vs. a Suge would have been."
Fab show the interview and confirmed what Loc said was true.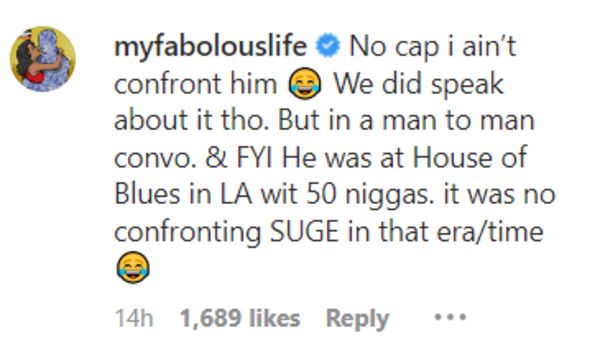 "No cap i ain't confront him 😂 We did speak about it tho. But in a man to man convo. & FYI He was at House of Blues in LA wit 50 niggas. it was no confronting SUGE in that era/time," Fab said.
Discuss