Mitchell Green, the former Brand Management Director at 50 Cent's Branson Congac, was caught embezzling $2 million from the company. So, 50 sued and won $6.2 million in 2021.
It just got worse for Green. This week, he pled guilty in a Federal court to defrauding Branson.
"Though he was supposed to negotiate the best deal possible for his employer, Green set up secret side deals to inflate what his employer paid so that he could reap millions of dollars in kickbacks," stated Philip Sellinger, U.S. attorney for the District of New Jersey, in a written statement. "Companies must be able to rely on the integrity of their agents to conduct business."
Green will be sentenced in January, with a maximum penalty of twice the gross loss by 50's company and a prison sentence.
Green still hasn't paid the money he owes 50 from the lawsuit, and Fif has said he will go after his house, cars, and everything else.
This is how he reacted to Green pleading guilty in criminal court.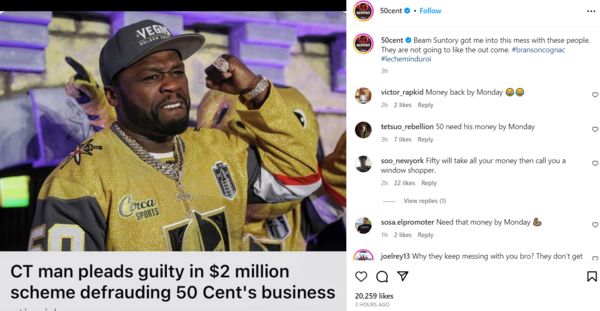 Discuss