Chrisean Rock's new tactic in her beef with her baby daddy Blueface is to suggest he's a member of the LGBTIQA+ community.
Yesterday, she suggested Blue had a big crush on Lil Baby and wanted to rub his booty against the Atlanta rapper.
In doing so, Chrisean also implicated Blue's chatty manager Wack 100 in homosexual behaviors.
Wack didn't take kindly to that and threatened the new mom.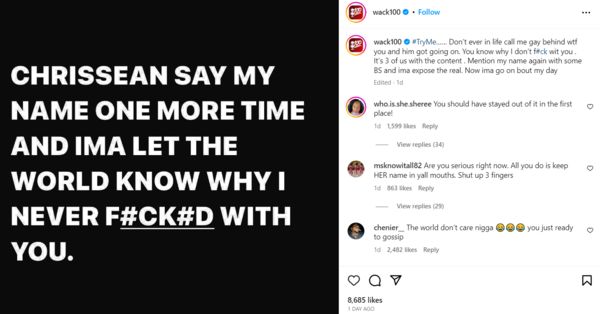 "TryMe…… Don't ever in life call me gay behind wtf you and him got going on. You know why I don't f#ck wit you . It's 3 of us with the content . Mention my name again with some BS and ima expose the real. Now ima go on bout my day," Wack typed.
It seems like Chrisean hit a nerve.
Discuss